When a company needs business cards in a hurry, you can count on Linards to come up with the goods, Designed and printed within 24hrs.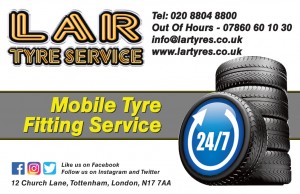 All your mobile tyre needs 24hrs 7days a week!
You can call us anytime for a emergency tyre replacement rescue whether your stranded on the motorway or at home!
You can also book us for home tyre fitting or we can also come to your work place!
Computerised wheel balancing on board and carried out when ANY tyre is removed from the rim and FREE of charge!
< Back to Blog